Freshwater Lavender Pearl Necklace
Freshwater Lavender Pearl Necklace
These lustrous, natural lavender color, pearl necklaces are incredible. The pearls are strung on twin silk thread which is hand knotted between each pearl for beauty and durability. Each strand is finished with a solid 14k gold clasp. As with all of our products, this necklace will come packaged in a beautiful presentation gift box and will also include a "Pearl Care Card" and appraisal.
What SIZE pearls should I buy?
Choosing the best size of pearls for your pearl necklace, earrings, or bracelet is an important decision. Pearls are measured in millimeters, across their diameter. As a general guideline, pearls from 3mm to 5mm are very small, pearls from 6mm to 7mm are decently sized, and pearls larger than 7mm will make quite the impression. A single millimeter difference in size is very noticeable.
(NOTE: The above picture shows the relative size of pearls. They will not appear to scale on your display.)
What QUALITY of pearls should I buy?
Pearl quality is typically denoted by the standard letter grading scale of C, B, A, AA and AAA with AAA being the highest quality.
We encourage you to compare our pearls with those from your local jewelry store. You will find that our grading standards are comparable to, and often higher than, most resellers. NOTE: We do NOT use fictitious grading scales such as AAA+ or AAAA, so when comparison-shopping with other sites, please be aware of this fact. AAA quality pearls from us are the 96% or better blemish free with excellent luster and matching.
What OVERTONE COLOR of pearl should I choose?
The overtone color of a pearl is a subtle, translucent color that lies across a pearl's surface and is secondary to the body color. Having no overtone color is always a safe choice unless you know what overtone color the person you are buying for prefers.
Helpful Hints:
A woman with very fair skin may prefer a slight rose overtone since it will add color to their appearance.
A woman with darker skin color or graying hair will sometimes prefer more of a silver overtone.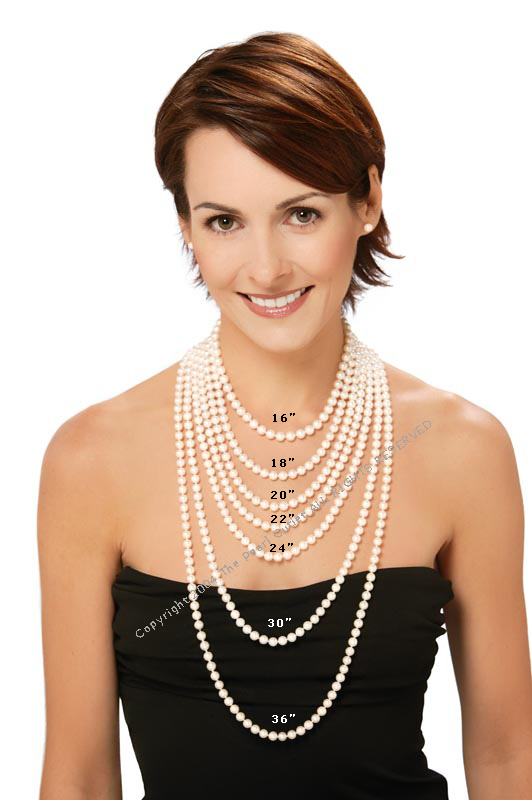 What LENGTH of pearl necklace is right for her?
Choosing the right length is an important part of your purchase. Here are some ideas of what might be the right length for her.
Choker - 16 inches. A pearl choker is perhaps the most classic and yet versatile of all the single strand lengths. A simple pearl choker can go with virtually any outfit from casual to fancy evening wear, and just about any neckline imaginable.
Princess - 18 inches. The princess length necklace is best suited for crew and high necklines. It also complements low plunging necklines.
Matinee - 20 to 24 inches. Longer than the choker, and just a bit shorter than an opera length, the matinee necklace is the right choice for casual or business dressing. HINT When buying for an older woman, a longer length helps to draw the attention away from the neck and to the pearls.
Opera - 28 to 36 inches. The opera necklace is the queen of all the lengths. When worn as a single strand, it is refined and perfect for high or crew necklines. When doubled upon itself, it serves as a versatile two strand choker.
Click on the picture to the left to see a close-up of the different lengths displayed on a model. Note that the model is a petite woman of approximately 115 lbs. When buying for a larger woman, the necklace will fit closer to the neck.